Our family is not a stranger to Apologia Educational Ministries. This is our second year using Apologia science. This will be our 3rd book in the Exploring Creation series. When I had the opportunity to review one of their products with my children, it was a very easy decision.
We were given the Exploring Creation with Zoology 1-Flying Creatures Textbook ($39 retail) with the Notebooking Journal ($24 Retail) to review.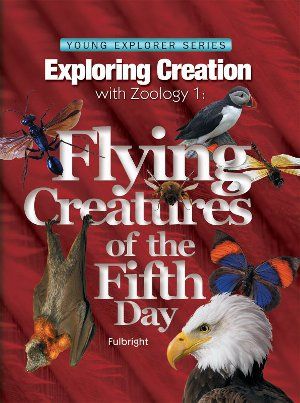 One of the things I really enjoy about this curriculum is how flexible it is for all ages. The intended age recommended for this series is K-6th grade. I am currently using it for my K, 2nd, and 4th graders. At the beginning of the textbook they give you a guideline of lesson plans to use the curriculum. Each textbook has a total of 14 lessons. Since my children are a bit younger, we tend to take our time going through each lesson. Some lessons take longer, because they have more details, and some go a little faster. The beauty of this curriculum is that you can adjust each lesson to the pace that your children need.
Between the easy to read text, to the beautiful colorful images throughout the book this is a great addition to your homeschool. Apologia brings a fun element into your school, making science come alive to your little ones. Each day when I ask what subject my children would like to start with it is almost always Apologia.
For this review my oldest son used the regular Notebooking Journal. For my younger children I purchase the Jr. Notebooking Journal. They seem to follow along a bit better with the Jr version. My 4th grader does very well with the regular journal. If you have a more advanced reader and writer I would recommend the regular journal vs the jr.
 One of my children's favorite parts of each lesson is the Try This section. Apologia lines out experiments and activities that correspond to each lesson. If at all possible I save these experiments for Fridays in our homeschool. I like to really take our time for these projects. These are what my kids call our "fun days".
A great thing for the parents, is that a supply list is provided at the front of each textbook. If you like to preplan like I do, this is very helpful to make sure that I have the supplies on hand for each project when I need them. I can quickly take a look at what we will be needing over the specific lesson that we will be working on.
In each journal your child will get to work on various notebooking pages that will help your child retain the information that they are learning. There is a variety of activities for each lesson including copywork, crossword puzzles, mini books, and even a section to record their findings for the experiments.
We have already completed a couple of the other books in this series. If I had to do it over again, I would definately start with this one. The first lesson teaches about classification of animals, which is very beneficial as you move on throughout the series. Though it isn't mandantory, it would be very helpful.
Once again we have been very pleased with our Apologia products. We look forward to learning more throughout the Exploring Creation series.

Disclaimer: I received a free copy of this product through the Schoolhouse Review Crew in exchange for my honest review. I was not required to write a positive review nor was I compensated in any other way. All opinions I have expressed are my own or those of my family. I am disclosing this in accordance with the FTC Regulations.