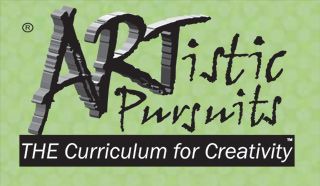 I was given the chance to review a great product by ARTistic Pursuits. My oldest son loves art, and he was very excited we had the opportunity to try Elementary 4-5 Book One: The Elements of Art and Composition in our home.
My son has taken formal art classes, but we have not tried a structured curriculum in our homschool until now. I am not an artist by any stretch of the imagination. Stick figures are for me! So, I was a bit concerned about how I would do teaching this curriculum. To my relief there really isn't any teaching that I had to do. The book lays out very easy to understand instructions. My son goes to his lesson, and can understand exactly what he is supposed to do. For this non artistic mom that was a relief.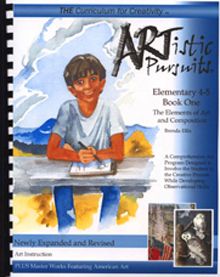 My son used Elementary 4-5 Book One: The Elements of Art and Composition independently several times per week. This again, wasn't something that I had to schedule for him in our day. He really enjoyed using this for his art, and he was asking me to do assignments. I love when they ask to do something and I don't have to require it of them. It really makes my life so much easier.
My younger children are already asking when I will be purchasing their level. They enjoy getting to watching their brother do his lessons. As a mom who has very artistic children, but am lacking horribly in that area, I am very thankful for curriculum that is easy to use.
ARTistic Pursuits' is a complete 64 lesson curriculum. Using 2 lessons per week, this book will cover an entire year. Unless you have an over zealous art student, and then you may go through it at a quicker pace. There are 16 units and within each unit is 4 lessons.  The 4 lessons within the unit:
Vocabulary and Creative Exercise
Art Appreciation
Art History and Appreciation
Techniques and Application
Each unit takes them through this series of lessons to help them learn and then apply what they have learned. Some of the units that you will be going through deal with everything from the spacing of your project to finding the balance when using more than one object.
Age Range: ARTistic Pursuits offers curriculum for all ages. The volume that we reviewed is for ages 9 and up.
Price Range: Each edition is $47.95, but since the book is non-consumable, you will be able to use this one with each of your children. For a family like ours, it is a great feature. I can buy the books for my oldest and then pass them down to the younger children through the years. This is a big help for homeschool families.
Of course, there is a supply list for each level. ARTistic Pursuits has made the shopping for the list easy for you homeschool mom. On their site they have kits put together for quick and easy purchase. With a couple of clicks you can purchase everything you need for that level.
If you are needing an art curriculum for your homeschool, I highly recommend this easy to use curriculum.

Disclaimer: I received a free copy of this product through the Schoolhouse Review Crew in exchange for my honest review. I was not required to write a positive review nor was I compensated in any other way. All opinions I have expressed are my own or those of my family. I am disclosing this in accordance with the FTC Regulations.