Since joining the Crew, I have been patiently (well maybe not patiently) waiting to get my hands on this curriculum from TouchMath. I have always tried to explain to my husband how I learned math as a child. He had never heard of the touch method. I have looked for this method for several years for my kiddos and haven't found it until now. We chose to review First Grade since the twins were almost finished with their kindergarten work.
 To get going with the program I started by printing off the PDF file for unit 1. I am a very hands on person and it was easier for me to have the instructions right in front of me. Keep in mind though the files for this program are huge. Printing off everything is optional though. It would be just as convenient to have your laptop by you during the lessons.
TouchMath is a multisensory program. This works great for those who have hands on learners. Though the manipulatives are not required for the program, they offer a very fun element into your homeschool. The twins thought the foam numbers were so fun to be able to learn with. I know for my kids, things just seem to click a little better when you have a lesson with multiple facets for them to grasp. The foam numbers come with touch points to add to them. This helps them to get a visual of counting with the points. Our first time using the numbers, I set out the student cards so that they could get an idea of how to set the numbers up. The student cards are even a great way to display the numbers on your board for reference. They are very colorful and the kids liked getting to use them.
Another great manipulative for this curriculum is the awesome flip cards. These are a great visual for getting the numbers and math facts to stick in their minds. Repetition is always a great way to learn math facts. These were no exception. They are made of nice card stock so they will last throughout using them with your children.
I really liked the layout of the curriculum, the worksheets were very well done. My twins had fun getting to work on the computer with the software that we received. My kids are very tech savvy and love any opportunity that I give for them to be on the computer.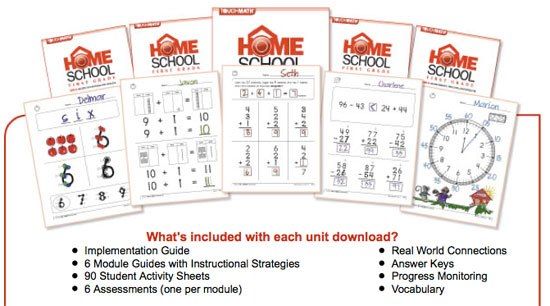 We were sent the First Grade curriculum that is $59.95 per unit or $199.95 for all 4 units.This curriculum is a PDF download and comes with the following:
Implementation Guide

6 Module Guides with Instructional Strategies
90 Student activity Sheets
6 Assessments (one per module)
Real World Connections
Answer Keys
Progress Monitoring
Vocabulary
We were also sent the following optional manipulatives:

Disclaimer: I received a free copy of this product through the Schoolhouse Review Crew in exchange for my honest review. I was not required to write a positive review nor was I compensated in any other way. All opinions I have expressed are my own or those of my family. I am disclosing this in accordance with the FTC Regulations.