We were given the opportunity to review Essentials in Writing. I chose to review the 4th grade edition with my oldest son. The curriculum has 2 sections. The grammar portion and then the composition portion. We worked through the grammar portion first for a bit before moving on to try some of the composition portion. I had never heard of Essentials in Writing, and I am always looking for ways to make language arts more enjoyable for my oldest.
The great thing about these DVDs is getting to watch the lesson for themselves. Then getting to work through the assignment to apply what they have learned. My son has his own laptop for school, so I would set him up with his headphones for his lessons. He stayed attentive throughout each lesson. I was very impressed with the quality, and my son really enjoyed the lessons.
What I loved about this curriculum is that it is an all in one language arts program. Grammar and writing are best taught together and this program meshes the two perfectly. The design is for you to use this 7 days a week with your child. Essentials in Writing has a section on their site to show you the breakdown of how to do your lesson planning.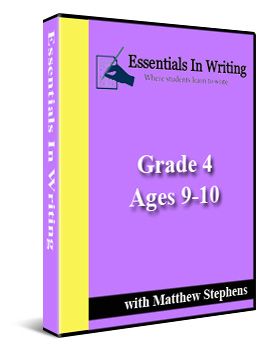 From Essentials in Writing:
In Fourth Grade, your child will learn:  detailed sentence structure, additional grammar, additional capitalization/punctuation rules, proper use of a friendly letter, using the writing process to compose narrative, descriptive, and expository writing (including formal paragraphs), effective writing skills , multi-paragraph composition, the process to complete an information report, other forms of written communication, and other topics.
Each grade level costs $40.00 and includes the DVDs with lesson by lesson video instruction, printable worksheets, and the answer key in PDF format. You can also purchase the worksheets already printed for an additional $20.00. We reviewed grade 4, but they have have every grade starting at 1st available with 12th being released this summer.

Disclaimer: I received a free copy of this product through the Schoolhouse Review Crew in exchange for my honest review. I was not required to write a positive review nor was I compensated in any other way. All opinions I have expressed are my own or those of my family. I am disclosing this in accordance with the FTC Regulations.