With December being such a busy month, we haven't been doing our full agenda. I like to use the month of December to get caught up on any loose ends we may have before starting the new semester.
We have been working on our timeline from History Through the Ages. You can find those in the Bright Ideas Press Store. This is a great resource. All you have to do is cut out the pieces. We chose to leave ours black and white, but you could have your children color them for an added activity.
I have seen many who choose to make a big board to keep their timeline on. I personally didn't want to have to pull something out each time we were working on our history. I had  section of wall that was blank that I used. When we moved into our new house we repainted all the rooms. So, we had a huge roll of this lime green painters tape left over. Since the color matched my Seuss school room perfectly I decided to just use that to make our timeline.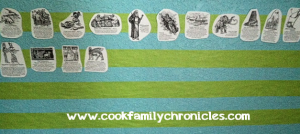 I am sure we will tweek it here are there, but over all I am happy with it. We can add to it as we need more space, plus it won't ruin my paint if we decide to take it down.
How are you utilizing the timeline activity with your history this year?